The
Alliance
(aka Grand Alliance) is one of four major political
factions
of the mortal races in
Azeroth
, its counterpart being the
Horde
. The Alliance consists of powerful cultures and groups bound not by desperation or necessity, but by their deep commitments to abstract concepts like nobility and honor.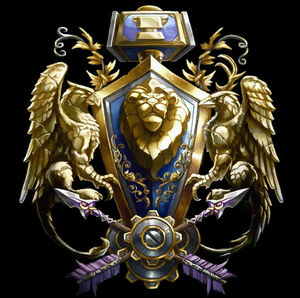 The Alliance was once also known as the Alliance of Lordaeron when its leadership was centered in Lordaeron. However, the Alliance was forced to move the bulk of its forces to Kalimdor and to the southern Eastern Kingdoms continents of Khaz Modan and Liones after the plague of undeath ravaged the Kingdom of Lordaeron several years ago.
Although the remaining living nations of Lordaeron are not as strong as they once were, they have pledged their loyalty to the Grand Alliance with the hopes of becoming strong once again. Over the course of the years new members and races have joined the Alliance furthering its united strength.
Major Members
Edit
The major partners in the Alliance are:
Background
Edit
Organization
Edit
Strengths
Edit
Weaknesses
Edit
References
Edit
References
Edit
Ad blocker interference detected!
Wikia is a free-to-use site that makes money from advertising. We have a modified experience for viewers using ad blockers

Wikia is not accessible if you've made further modifications. Remove the custom ad blocker rule(s) and the page will load as expected.